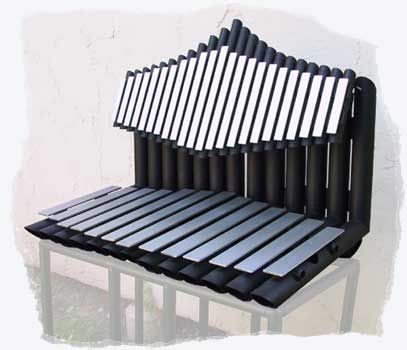 Pegasus by Freenotes
The Pegasus (on top) is an instrument complete within itself. Combining two complimentary pentatonic scales of A minor and C major, mirrored in their array, they form the diatonic scale found in the white keys of the piano. This design hosts a total of 23 keys made of one-inch polished aluminum bars mounted on black resonator tubes.
The Pegasus can also be displayed on a wall, showcasing its visual beauty as well as its harmonic sounds. An optional wall hanger is available.
The Addendum resonator (bottom) supports the Pegasus and creates the perfect bass accompaniment. Resembling pipe organ pedal notes, this lower rank of keys sound an octave below middle C.
Emmy award winning artist Paul Horn, frequently has the Freenote instruments in his ensemble.

As these instruments are each made to order and hand crafted in Colorado, please allow 2 - 4 weeks for delivery.

Additional Mallets and a Wall hanger are available for the Pegasus.

Please Note: $50 shipping and handling is included in the price for the Pegasus.
Reviews