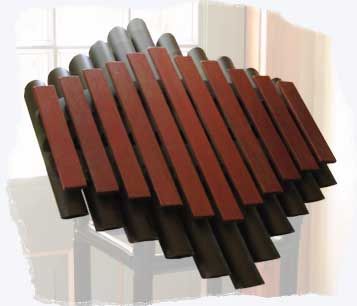 Imbarimba by Freenotes
The Imbarimba is a unique musical design combining elements of two classic African instruments: the marimba (resonated xylophone) and the kalimba (thumb piano). The low tones are especially great when played with the large frosted crystal bowls.
The keys, made of a lustrous tropical hardwood, are arranged in the layout of the kalimba with long keys in the middle and short keys on the ends. This allows both the left and right hands equal access to the upper and lower notes. The Imbarimba comes with four mallets. This instrument is ideal for playing by two people across from each other, or for playing with two mallets in each hand.
Employing a five-tone pentatonic scale, all notes are in harmony. There are no wrong notes! No difficult techniques are required to produce its lovely tones - just a tap on the middle of the bar. The Imbarimba can also be displayed on a wall, exhibiting its visual artistry as well as its harmonic sounds. Each Imbarimba comes with a set of mallets.

Emmy award winning artist Paul Horn, frequently has the Freenote instruments in his ensemble.

As these instruments are each made to order and hand crafted in Colorado, please allow 2 - 4 weeks for delivery.

Additional Mallets and a Wall hanger are available for the Imbarimba.

Please Note: $35 shipping and handling is included in the price for the Pegasus.
Reviews