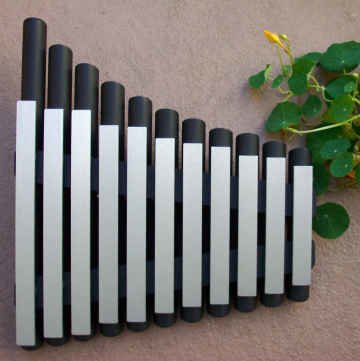 Freenote Wing, C Major
Enhance your crystal bowls or expand into new areas of sound with this fabulous instrument, the Freenote Wing in C Major. It is hand crafted by Emmy Award winning musician, David Clark in Colorado.
Make entrancing music anywhere with the most affordable and portable Freenotes instrument known as the "Wing!" All Freenote instruments perfectly compliment the Singing Crystal Bowl tones. The healing tones are perfect for guided meditations and pure enjoyment.
The Wing employs a five-tone pentatonic scale, so all notes are in harmony. There are no wrong notes! No difficult techniques are required to produce their lovely tones - just tap on the middle of the bar - players and listeners alike will be soothed and delighted by their pure tones.
The Wing has been designed to require no maintenance. It will never go out of tune and the lacquered metal bars will not tarnish or stain. There are no moving parts to adjust. Each Wing includes one pair of mallets.

Wall hanger is an optional add on.
$25.00 shipping and handling is included in this price.
Reviews